Jenni & Andreas Kullaro
Vi är båda födda och uppvuxna i Nordöstra Skåne där diabasen nått dagen. Vi arbetar som par, sida vid sida i all vår formgivning. Vårt skapandet sker oftast direkt i nuet och steget från idé till genomförande är aldrig lång, då vi mer eller mindre oftast befinner oss mitt i tillverkningsprocessen. Att vi inte alltid är rörande överens kan tänkas vara ett problem. Men det har istället blivit vår styrka då 4 ögon och 2 hjärnor ser saker på olika sätt.
Den stora passionen för form och diabas är vår drivkraft och vi har som målsättning att skapa föremål som bär en tidlös enkelhet med diabas som signum.
Inspirationen är oftast sprungen ur ett behov, ett intryck eller av misslyckanden som föder nya tankar och ideer. Genomgående är dock alltid strävan efter enkelhet och att ge produkterna en tydligt Kullaro identitet.
Den långa resan vi haft tillsammans med diabasen har varit vår utveckling då vi varken har utbildning inom form eller förädling av sten. En resa som är starkt präglad av vision och passion, där vår envishet och uttrycket ¨gör om gör rätt¨ varit det som fört oss framåt sedan mitten av 90-talet.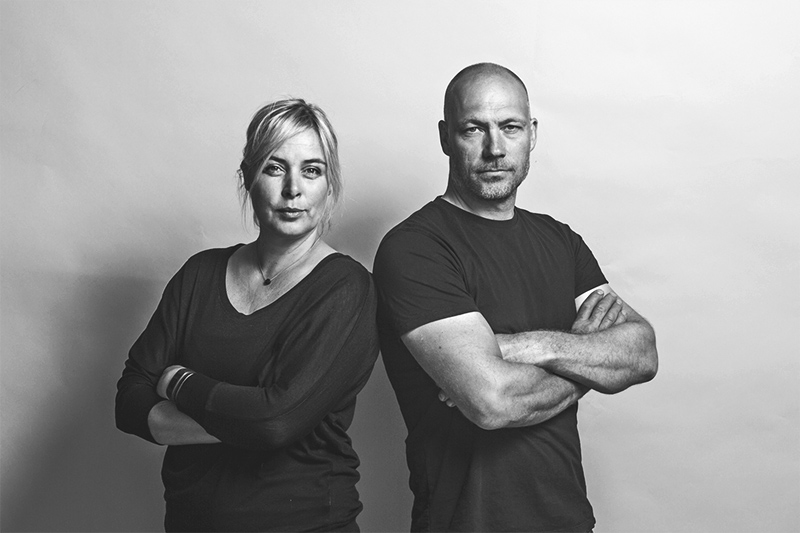 Lisa Hilland
Lisa Hilland creates contemporary design with a poetic twist, combining modern high-tech production techniques with artisan quality craftsmanship. After graduating from Central St Martin's College of Art and Design, she worked ten years as a designer in London before setting up her own studio in Sweden in 2005. Her current clients include renowned furniture producers such as Klong, Kullaro, IKEA, Gärsnäs, Gemla, and Svenskt Tenn.
"As I designer I have a great love of materials and how they influence how we perceive an object. I am constantly experimenting with the qualities of materials, making use of them in new combinations. Excellent design triggers our emotions and according to me, materials have a great part to play while designing – or as I call it – giving an object a soul that can be loved.
The starting point for a project can be solving a challenge of practical or emotional nature, or simply exploring a technique of manufacture or crafts that fascinates me. I aim to create items that are sensitive to human emotions and needs and I always push my clients to consider the environment as far as they possibly can. Therefore I am deeply involved in every project, you often find me on the factory floor looking for more beautiful, eco-friendlier and smarter solutions.
The creative process itself is another inspiration and the state of mind I'm in when working. Each project has its own unique progress, as important to me as the finished result. Enjoying the process and exploring new areas of knowledge, I believe is the key to all good design!"
Awards
Designer of the Year
2013 Plaza Magazine Awards
Furniture of the Year
Bow Chair, Gemla
2013 Recidence Magazine Awards