Kullaro
With passion, persistence and Diabase as its basis, Kullaro creates contrasting forms and objects where each and every one has it´s own expression and it´s own distinctive character. This is done in most cases by combining the Diabase with other materials which enhance and beautify it in an unexpected manner.
Our vision is that every piece of jewellery, every piece of furniture and art contains a part of Kullaro`s heart and soul imprinted opon it. We makes use of hours, days and sometimes even weeks to give the Diabase the form and feel demanded by its historical legacy and historical environment.
A timeless and conditionless love. To be admired and recognized. To be kept or passed on. From generation to generation.
---
---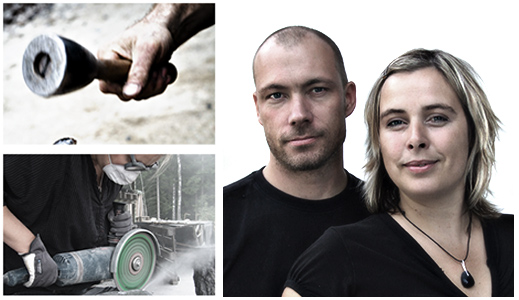 Inspiration
"The proximity of the open pits is important to us, where we find inspiration and strength."
Identity
"Each product has its own identity and is always carefully made​​."
Tolerance
"The tolerance for dirt, moisture and noise have become much larger over the years."
Fragile as glass
"Despite the fact that the diabase is among the hardest rocks, it´s sometimes fragile as glass."
Passionate relationship
"We could not have imagined that our vision would evolve into a passionate relationship to this amazing rock."
Vision
"Our goal is that with a timeless simplicity highlight the interaction between art and everyday items."